Your Local SEO Experts
Everyone wants their website to rank as high as possible…. but why is this important?
When it comes to online traffic we know that the higher a website ranks, when people search for something relevant to that business, the more likely the website will generate enquiries or orders. Think about the last time you searched for something online. Did you go past the third page of search results, or had you found a suitable solution by then. The further down the list your website is, the more likely your business will be missed.
When a new website goes live, while it might work perfectly and look beautiful, it is actually relatively unlikely it will generate many inbound enquiries. This is simply because it takes time for search engines to understand what your website is about, the services you offer and to trust your website. Search engine optimisation is about helping search engines understand your website and improve how much they trust it.
SEO sometimes gets a bad rep. I'm sure you've had those emails promising 1st place on Google from an anonymous online company in a far off land. We're different. We're local, right in the heart of Athlone. This means you can come in and speak to us. You can drop us a call. Pop us an email. We're here to help and make SEO simple and transparent.
Why not use the form on this page to request a free website SEO audit. What have you got to lose? Let's get together and see about increasing your online presence.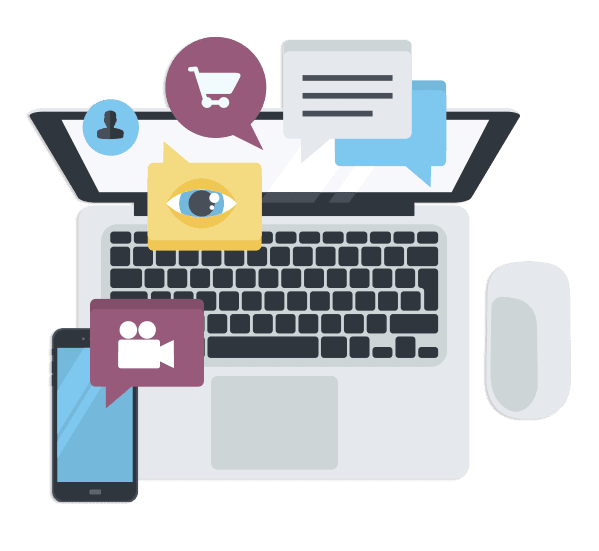 What is SEO?
Search Engine Optimisation, SEO for short, is essential an industry term for a collection of best online marketing practices. It includes web development, digital marketing, content creation, social media, PR and much more. It's all about doing these elements well, consistently over time.
By doing these elements over time we help search engines, such a google, understand our website and prioritise it for relevant searches. SEO is complex and ever changing. We try and make it as transparent as possible. While it is complex, SEO boils down to two key principles – Relevance and Authority.
Website Relevance
Can search engines easily read your website? Do they think your content is relevant and good enough for the intended audience? Is the information on your site relevant to what people are searching for? Is your site structurally and technically easy for search engines to crawl? Activity focused on improving these elements will help increase your online presence. This type of activity is generally called 'on-page optimisation'.
Website Authority
If search engines deem that your website is relevant to a particular online query, then it will appear somewhere in the search results. What affects where you rank, and how close you get to the top of the pile, is dictated by how much search engines trust your website? The level of trust is known as 'Authority'. The better your authority, the higher your website will rank. Developing a website's authority is generally known as 'off-page optimisation'.
Complete the form above to book your FREE website SEO audit



Book Your Audit
The starting point is to request a free SEO audit for your website. We'll have a look under the bonnet and detail our findings. To do this just complete the form at the top of this page
RESULTS EXPLAINED
SEO is complex and littered with technical information. We'll keep this to a minimum and explaining, in clear terms, the audit results and most relevant sections for your business
SEO Proposal
We'll recommend which of our SEO packages suits your business best. Explain what's included and what we'll do each month to help improve your website's SEO in a clear proposal
SEO Stardom
Once your SEO package goes live, we'll get cracking and start to address the key focus areas. We'll provide you with regular updates as to what we've done and the impact it's had
Keep it Simple with SEO Packages
We could design and build a bespoke SEO campaign for every client but the truth is most businesses have very similar needs when it comes to search engine optimisation. We prefer to keep things simple which is why we've built four different SEO packages.
Every month, each package comes with an allocation of time for on-page and off-page optimisation, all designed to help improve your online presence. In our handy SEO brochure, which you can download HERE, we've detail each of the four SEO packages. You can see for yourself what's included, where the time is being spent and the monthly cost.
Need help choosing the right SEO plan for your business? No problem. Let's start by running a free SEO audit to see where your website is working well and which areas need attention. We'll run you through the results and discuss which plan might work best for your business. Ultimately, the package we recommend will depend on your existing SEO profile, how quickly you want to see results and your budget.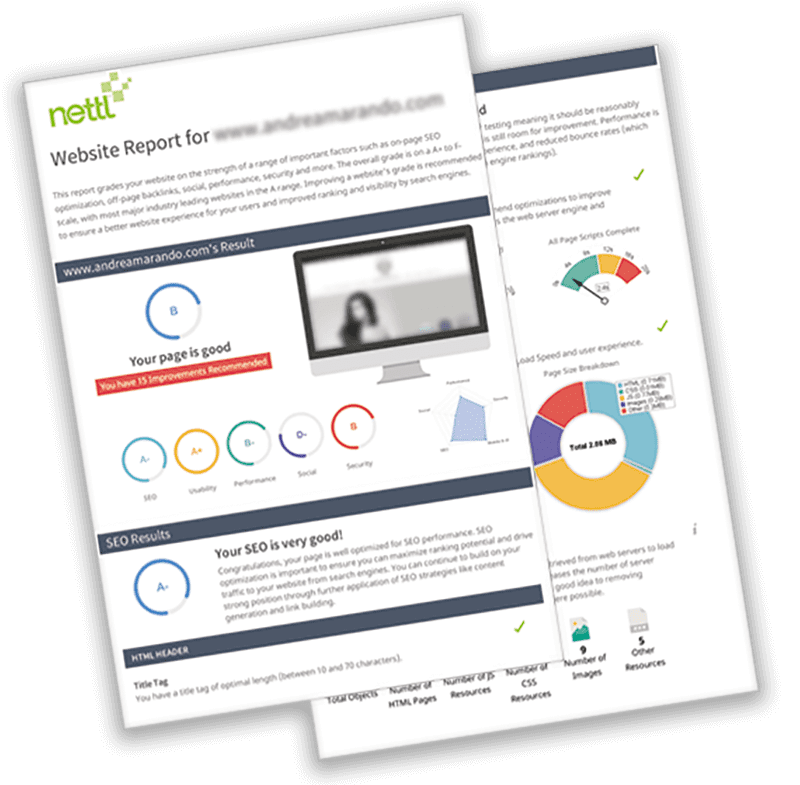 Ongoing SEO SUPPORT
Information is king, but too much information can be a killer!
All of our SEO packages come with ongoing, scheduled reports. We'll share with you a summary of the activity that has been completed, and more importantly, the impact it's had on your website. The frequency of reporting depends on the SEO package you select.
All SEO clients also get access to a private online dashboard which allows them to view the impact of their SEO package, in real-time, through a plethora of reports. Never forget, we are here to help you with any questions you might have about your SEO package. We will also recommend any developments to your site which will help with your ongoing SEO activity.
Nettl's Global SEO Team
SEO is highly complex and ever changing. To do it properly takes a team of SEO heroes, each with their own area of expertise. From copywriters to coders, optimisers to developers, it has to be a group effort. Nettl's centralised SEO team now includes over 70 SEO experts. Each year we work on thousands of SEO packages which has helped clients all over the world. We offer a local SEO solution, powered by a global network of SEO experts.
Our team in Athlone Printing are your local SEO project managers. We are here to make sure everything works perfect. To be your link to our SEO experts and to work with you to get the best out of your SEO package.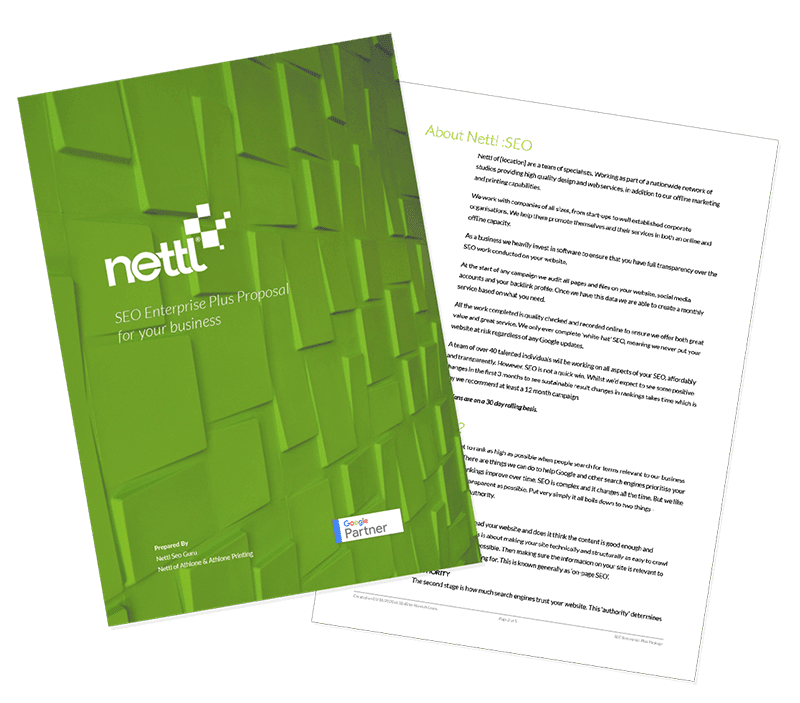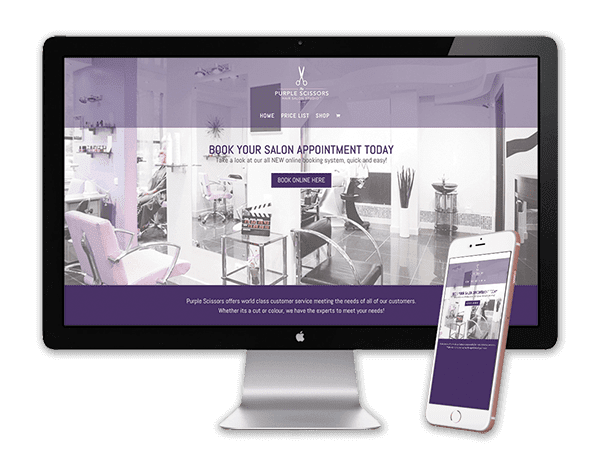 The World of Digital Marketing
The wonderful world of digital marketing does not start and end with SEO, there are many ways to market your business online. You might prefer pay-per-click advertising, social medial management & advertising, content marketing, email marketing, video marketing, or any of the other digital marketing options. SEO might not right for every business but there are lots of options to choose from.
Unsure which digital marketing program is right for you? Why not book a free digital marketing consultation and lets chat through your options. Ask us anything you like and find out what you could be doing to help grow your business. We've put together some information on each of the services available as an introduction, but chatting with us is free so why not book an appointment. We look forward to guiding you through the wonderful world of digital marketing.