Welcome to Printing.com & Nettl of Athlone
PRINT - DESIGN - WEB - BRANDING - DIGITAL MARKETING - WEDDINGS - MEMORIALS
The Home of Printing In Athlone
Athlone printing was established in 1999 by Keith Nolan. It was originally based in the Athlone Enterprise Centre in Parnell Square before moving to our current location in 2009.
While our business started as the local expert for all of our customers; print and design needs over the years we've grown and evolved. We are the Midland's premier provider of anything and everything to do with marketing. Your friendly one-stop-shop for marketing, printing, design & branding, websites, digital marketing, search engine optimisation, digital advertising, clothing, promotional products and giveaways and much more.
We are still famous for fantastic high-quality products, affordable pricing and honest expert-lead advice. We believe our company name speaks for itself and we are extremely proud of what we do for our valued customers.
We are also the Midland's official printing.com and nettl partner. Printing.com is one of Europe's largest print collectives and Nettl is now the world's largest network of web and digital studios. We harness the power of these global businesses while delivering class-leading, local services.
So why not say hello.? Let's arrange a coffee, chat, zoom or we'll pop out to see you.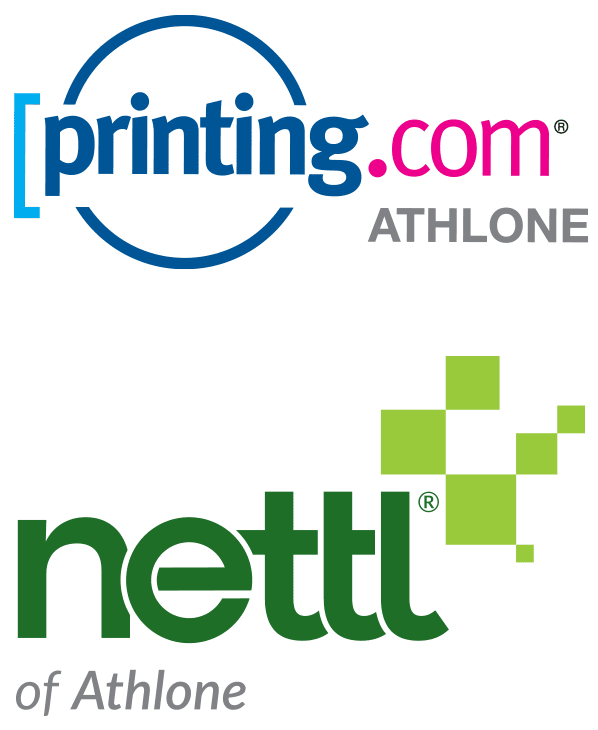 Why Use Printing.com & Nettl Athlone?
WE'RE LOCAL
We listen, we discuss, we advise. Sounds obvious but we listen to your ideas, plans and objectives for you and your business. We then tailor the best solution to suit those requirements.
UNDER ONE ROOF
Athlone Printing is your one-stop-shop for all your marketing needs. From signage to branding, websites to printing, digital marketing to exhibitions and everything in between.
WE'RE EXPERTS
Our team of marketing experts have a wealth of experience and are bursting with creative ideas to help your business. We price ourselves on always providing honest, reliable & transparent advice.
WE'RE AFFORDABLE
As a business we strive to consistently offer fair and competative prices. We always provide details quotes for our work, with no hidden extras. Fair, honest and transparent.
The Wonderful World of Web
For many of our clients we are their one-stop marketing supplier, helping them with both their online and offline promotions. We've been offering website consultancy, website design, search engine optimisation, online marketing, digital marketing, e-shot management and so much more since 2014.
There could not be a better time to develop your website as customers' buying habits are changing due to COVID-19. You might not have heard but there are also local enterprise grants for businesses wanting to develop their websites. You can find more information HERE
We are offering everyone a free, no obligation, one-hour consultation to help you navigate the wonderful world on online and digital marketing. Why not book yours today. We'll pop the kettle on!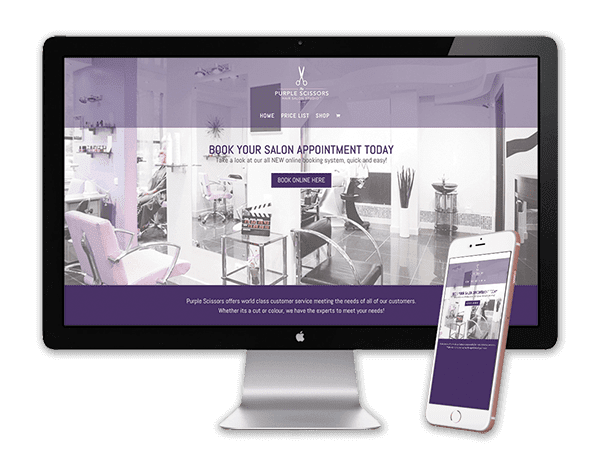 Spectacular Social Media
For some people social media is just selfies, cats and food pics. Sure, there's a load of that. We go on social media to connect with each other, friends and family. Whilst we're there, plenty of us happen across, engage with, talk to and find out more about businesses, brands and communities that interest us.
For many businesses having a social media presence is one of those things you feel you have to do. So maybe it does not get the resource or time it deserves. It ends up being ineffective and your audience gets turned off.
It's too pushy, too friendly, too salesy or heavens forbit too boring!
We're here to help. We can help businesses build a social media identity that fits their brand and tone of voice. But crucially, one that engages its audience. Download our social media guide or book in for your free consultation.
SEO & DIGITAL MARKETING… where to start
Great you have a beautiful, functional website, but what do you do now? How do you drive more traffic to your website? How do you generate more enquiries? What part should social media play in my online marketing? What other forms of online marketing should I be doing?…… Ahhhhhh help, I'm a little lost when it comes to digital marketing!
It's ok, please don't worry. We're here to help. Many business have these concerns. The digital world evolves quickly. There are so many ways to promote your business online it can be hard to work out which is best. Online marketing is an incredibly important part of a marketing strategy. It is very targeted and for many businesses represents their most successful marketing activity.
Why not book one of our free, one-hour, no obligation, consultations. We'll review your current activity, give you lots of free advice and help you plan an online marketing program that works for your business.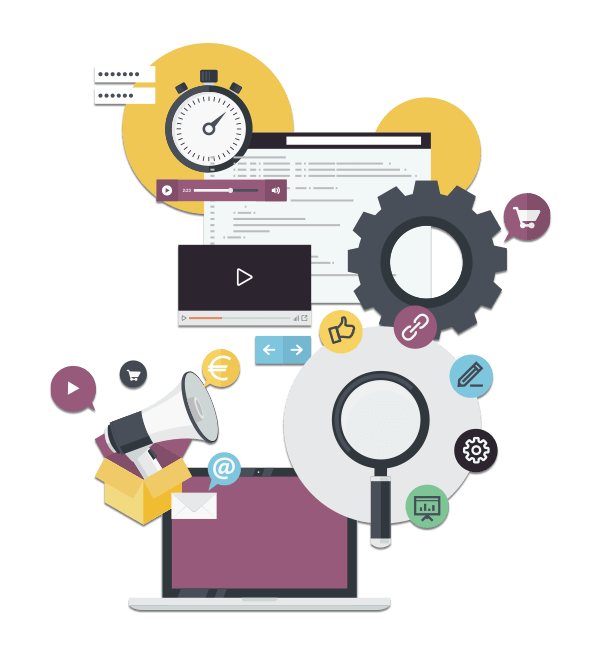 The invention of the printing press was one of the most important events in human history
Ha-Joon Chang
Book Your Appointment
We love helping customers just like you. Weather its print and design, large format, web and digital, special events or branded products we are here to help.
Simply complete the form and one of our team will be in touch to arrange your appointment. You can choose to book a visit our studio at Old Baptist Church, St Marys Square, Athlone, Co. Westmeath , N37 TH58, arrange an online video conference or return phone call.
If visiting our studio, please be assured that we have taken a number of steps to ensure that the building is COVID-19 complient. All we ask is that you wear a mask.
We looking forward to speaking to you soon.
How Can We Help You Today?
USEFUL GUIDES & MARKETING BITS
Ask us in-store for your free hard copy
Supported by the Local Enterprise Office Westmeath